---
In order to provide you the best experience, all our products are made by master craftman with selected high-quality materials and everyone owns its unique positive meaning. We hope these meaningful items will bring you good luck and positive change.💕
Product Description
Boxwood
♥ Longevity ♥ Immortality ♥ Success ♥ 
The Boxwood represents longevity and immortality. These slow-growing plants often take 5 years or more to reach a height worth trimming into a topiary hedge commonly seen surrounding palatial estates. For these reasons, the Boxwood is seen as an icon of consistency, stature, and taste.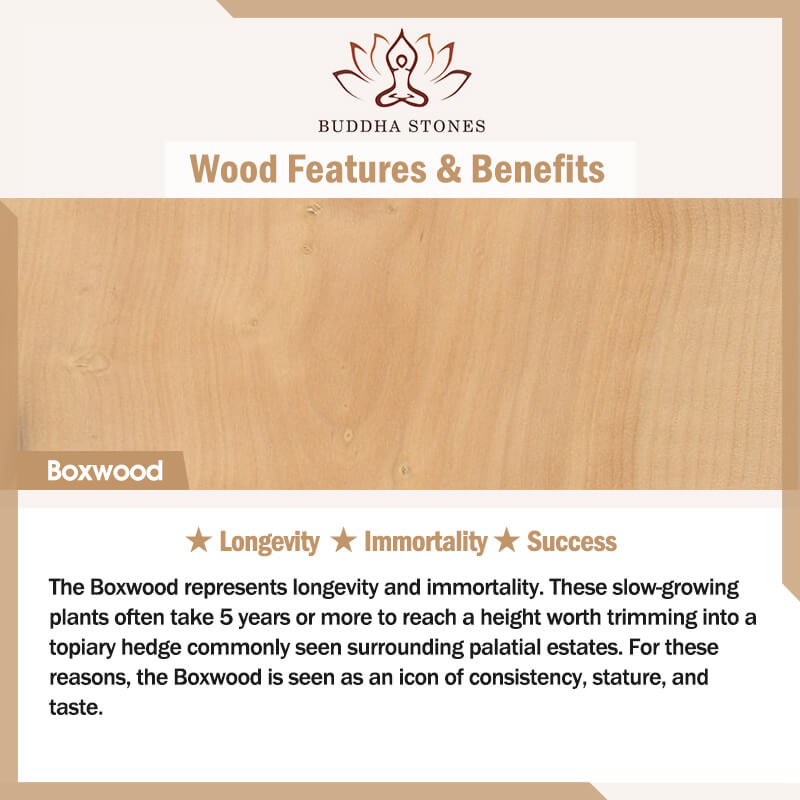 Small Leaf Red Sandalwood
♥ Longevity ♥ Balance ♥ Calm ♥ 
Small leaf red sandalwood has the effects of avoiding evil and protecting peace, eliminating disasters and relieving evil, eliminating evil and gathering wealth, changing Feng Shui, providing the gods of Buddha's spiritual cultivation, and curing diseases and relieving evil. In the "Compendium of Materia Medica", it is described that Pterocarpus striata has calming heart, soothing nerves, relaxing muscles and blood, anti-inflammatory and pain-relieving effects. Wearing small leaf red sandalwood jewelry can have incredible magical powers and inductions, such as enhancing immunity, preventing aging, stabilizing heart rate, improving insomnia and other medicinal effects.
LOTUS SYMBOL
♥ Enlightenment ♥ New Begining ♥ 
Delicate and ravishing, the Lotus represents purity, rebirth, and getting through tough times. Just like the flower itself, the Lotus symbol is embodied with the strength to go past the mud, water, and then elegantly emerge from the depth. That is a capability that can be replicated in life - there will always be tough, murky times, but everything eventually resolves.
Lotus will remind you to have faith and persevere, as hardships do not last forever. Enlightenment awaits and you should just remain patient and resilient. Both subtle and strong, this symbol is a contradiction, reminding us that compassion and emotional intensity is not a sign of weakness.
Specifications:
Item Type: Bracelet, Necklace, Mala
Bead Size: 6mm, 8mm
Number of beads: 108
Gender: Unisex
Material: Boxwood, Small Leaf Red Sandalwood
Note:
1.Products are made of natural materials, please take off the product when you are ready to sleep or wash.
2.The above data is manual measurement, there is a slight deviation, please understand!
3.The materials used in all our products are naturally environmentally friendly.
4. These products are HANDMADE and NATURAL, therefore they may present some irregularities and due to lightning effects, the colour may slightly vary from the one shown in the picture.