---
In order to provide you the best experience, all our products are made by master craftman with selected high-quality materials and everyone owns its unique positive meaning. We hope these meaningful items will bring you good luck and positive change.💕
Product Description
Bodhi Seed
♥ Wisdom ♥ Wake up ♥ Peace ♥ Keep away evil spirits ♥
Bodhi in sanskrit translates to "enlightened" or "awakenened," therefore the bodhi seed means "enlightened seed" . As an "enlightened" seed, many practitioners wear the bodhi seeds during their meditation practices to ultimately reach enlightenment.Bodhi is also a term in Buddhism to reflect a Buddha's understanding of the true nature of things.These dark-speckled seed beads have special meaning for all seekers of divine wisdom.
Invite bodhi seeds into your mindful practice and spiritual journey to enhance your awareness and connection.
Jade
♥ Prosperity ♥ Abundance ♥ Luck ♥
Jade is long known and valued for its beauty and powers of healing and protection. This is a very important stone, especially if you will be doing business, transacting with a client, closing a sale, or conducting any business deal that you want to have favorable results. Jade will help you have a positive attitude towards money, and it will make you visualize yourself working, earning, and using money purposefully and creatively. The prosperous energies of Jade will help you find the best course of action on matters that involve your finances and personal wealth. Jade stone will support your financial growth and expansion. It will also promote new beginnings and give you the guidance that you need to be successful and wealthy!
Copper
♥ Balance ♥ Self Care ♥ Healing ♥ Wealth ♥ Luck
Copper metal is a good conductor of heat and electricity. Spiritually, it also grounds and transfers vibration frequencies from the physical realm to the spiritual one, and vice versa. As a result, you can channel and communicate with higher dimensional beings, cleanse your aura, mind, and find out information from the spiritual world. Copper metal is the giver of positivity and goodness, as well as the bringer of good luck in various endeavors. It attracts money, prosperity, and all-round abundance.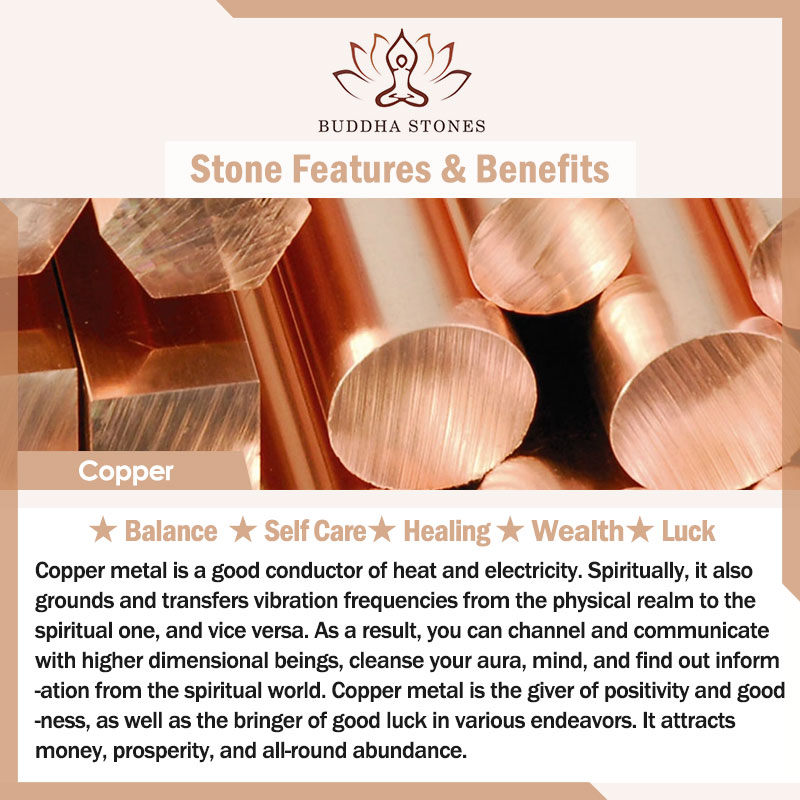 Vajra
♥ Enlightenment ♥ Spiritual Power ♥ Strength
Vajra is a five-pronged ritual object used in Buddhist ceremonies in Tibet. It symbols the properties of a diamond (indestructibility) and a thunderbolt (irresistible force). As a symbol for the properties of a diamond, vajra signifies indestructibility as diamonds are the hardest of stones. As a symbol for the thunderbolt, vajra represents the irresistible force. It denotes cutting through ignorance since the god Indra kills ignorant persons with this weapon.
The vajra is the weapon of the Indian Vedic rain and thunder-deity Indra, and is used symbolically by the dharma traditions of Hinduism, Buddhism and Jainism often to represent firmness of spirit and spiritual power.
In the tantric traditions of Buddhism, the vajra is a symbol for the nature of reality, or sunyata, indicating endless creativity, potency, and skillful activity.
The vajra (symbolizing the male principle, fitness of action) is held in the right hand and the bell (symbolizing the female principle, intelligence) in the left hand, the interaction of the two ultimately leading to enlightenment.
Specifications:
Item Type: Bracelet, Necklace, Mala
Bead Size: 8*6mm*108, 9*7mm*108, 9*6mm*108
Number of beads: 108
Wrist Circumference: 14-16cm (4-5 circles)
Gender: Unisex
Material: Bodhi Seed, Jade, Copper, Turquoise
Note:
1.Products are made of natural materials, please take off the product when you are ready to sleep or wash.
2.The above data is manual measurement, there is a slight deviation, please understand!
3.The materials used in all our products are naturally environmentally friendly.
4. These products are HANDMADE and NATURAL, therefore they may present some irregularities and due to lightning effects, the colour may slightly vary from the one shown in the picture.