---
In order to provide you the best experience, all our products are made by master craftman with selected high-quality materials and everyone owns its unique positive meaning. We hope these meaningful items will bring you good luck and positive change.💕
Product Description
Avalokitesvara
Recognized as the embodiment of compassion, Avalokitesvara is one of the most renowned and beloved deities throughout the Buddhist world. Tibetans believe that every person whose heart is moved by love and compassion, who deeply and sincerely acts for the benefit of others without concern for fame, profit, social position, or recognition expresses the activity of Avalokitesvara.
Avalokitesvara pendant absorbs all types of negatives you are surrounded with, thereby getting you rid of anxiety issues, helping to stabilize your mind and soul, helping you improve sleep quality, and promoting calmness within you. The necklace is capable of providing you with spiritual grounding vibration protection, and energy, which protects you from any kind of negative impacts or energies.
Avalokitesvara symbolizes good luck, a successful career, sending sons and blessings, compassion, and saving all beings. Nowadays, wearing jadeite Avalokitesvara means prosperous officials, successful careers, and abundant wealth.
Avalokitesvara is very compassionate and busy saving all beings from suffering, the implication of Avalokitesvara's jade pendant is that it can get you out of a bad situation and make you better and better.
AVALOKITESVARA SYMBOL
♥ Wealth ♥ Success ♥ Harmony ♥ Keep away evil spirits ♥
Avalokiteshvara (अवलोकितेश्वर) is one of the four great bodhisattva in Buddhism. Buddhism considers Avalokitesvara to be a bodhisattva of great compassion, saving and liberating all living beings in distress. Wearing a Avalokiteshvara pendant for a long time can wash away the distracting thoughts in people's hearts and make people feel peaceful. There has been a saying that "men wear Avalokiteshvara and women wear Buddha". Many men pursue careers to be promoted, and Avalokiteshvara (Guan Yin in Chinese) is homophonic in "Guan Yin (Official)", so many men choose to wear Avalokiteshvara pendants to bless their official career.
DRAGON
♥ Luck ♥ Strength ♥ Protection ♥ Success ♥
In China, the dragon and the phoenix are symbolized auspiciousness. The dragon is the fifth animal in the Chinese zodiac. They traditionally symbolize potent and auspicious powers, particularly control over water, rainfall, typhoons, and floods. In Chinese culture, the dragon represents good luck, strength, health, and also the male element Yang. In systematized mythology, the dragon is considered male and is paired with the phoenix (female); together the two creatures symbolize marital harmony. The dragon works as a mirror to the phoenix, symbolizing masculine energy, strength, and protection.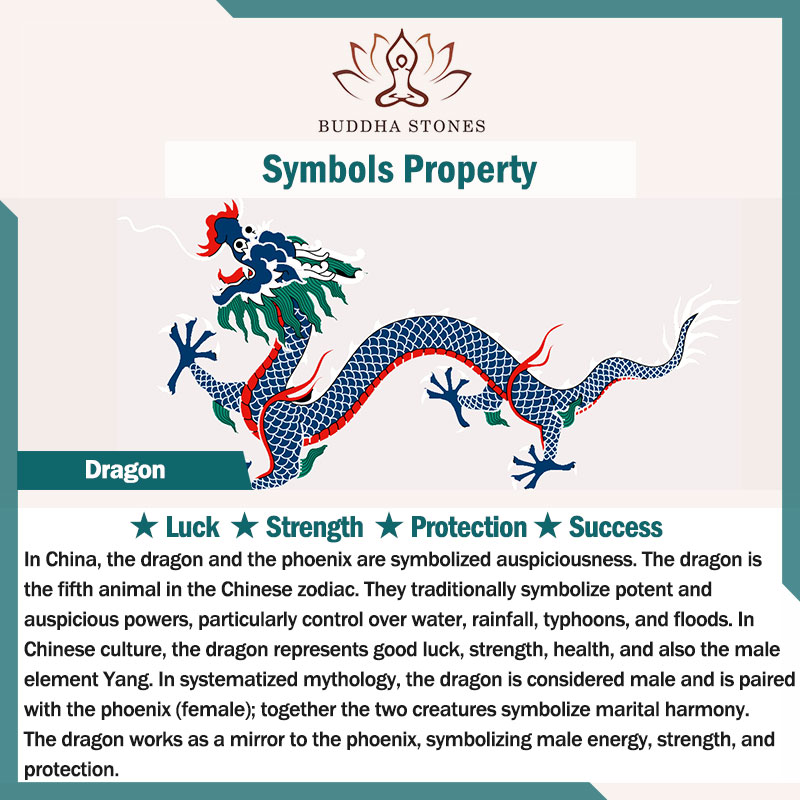 Jade
♥ Prosperity ♥ Abundance ♥ Luck ♥
Jade is long known and valued for its beauty and powers of healing and protection. This is a very important stone, especially if you will be doing business, transacting with a client, closing a sale, or conducting any business deal that you want to have favorable results. Jade will help you have a positive attitude towards money, and it will make you visualize yourself working, earning, and using money purposefully and creatively. The prosperous energies of Jade will help you find the best course of action on matters that involve your finances and personal wealth. Jade stone will support your financial growth and expansion. It will also promote new beginnings and give you the guidance that you need to be successful and wealthy!
Specifications:
Item Type: Necklace
Necklace Length: 45cm
Pendant Size: 50*36*5.5mm (Length*Width*Thickness)
Material: Jade, String
Weight: 14.5g (Only Pendant)
Note:
1.Products are made of natural materials, please take off the product when you are ready to sleep or wash.
2.The above data is manual measurement, there is a slight deviation, please understand!
3.The materials used in all our products are naturally environmentally friendly.
4. These products are HANDMADE and NATURAL, therefore they may present some irregularities and due to lightning effects, the colour may slightly vary from the one shown in the picture.