---
In order to provide you the best experience, all our products are made by master craftman with selected high-quality materials and everyone owns its unique positive meaning. We hope these meaningful items will bring you good luck and positive change.💕
Product Description
What is the Chinese Zodiac?
The Chinese Yinyang principle consists of a 12-year cycle, each year of which is named after a different animal that imparts distinct characteristics to its year. Many Chinese believe that the year of a person's birth is the primary factor in determining that person's personality traits, physical and mental attributes, and degree of success and happiness throughout one's lifetime. The ancient Yinyang principle constructed a fantastic system of 10 heavenly stems and 12 mundane branches. The latter corresponds to 12 animals with two symbolic functions. Each animal is mystically related to one year in a 12-year cycle. Each animal also represents two hours or one-twelfth of every day. A person's future is determined by this intriguing system. These twelve animals are Rat, Ox, Tiger, Rabbit, Dragon, Snake, Horse, Goat, Monkey, Rooster, Dog, and Pig. For example, the year 2022 is the year of Tiger.
What's your zodiac animal?
The 12 zodiac animals are shown below in order, with recent years for you to directly find out your own birth year and animal sign.
For example, 2022 is the year of the Tiger. If you were born in 2022, your Chinese zodiac sign is the Tiger, and you are known as a "Tiger".
Chinese Zodiac Signs' Personality
Chinese zodiac animals have astrological and cultural meanings. Chinese people associate each animal sign with certain characteristics. It's believed that people born in a given year have the personality of that year's animal.
Rat: quick-witted, resourceful, versatile, kind.
Ox: diligent, dependable, strong, determined.
Tiger: quick-witted, resourceful, versatile, kind.
Rabbit: quiet, elegant, kind, responsible.
Dragon: confident, intelligent, enthusiastic.
Snake: enigmatic, intelligent, wise.
Horse: animated, active, energetic.
Goat: calm, gentle, sympathetic.
Monkey: sharp, smart, curious.
Rooster: observant, hardworking, courageous.
Dog: lovely, honest, prudent.
Pig: compassionate, generous, diligent.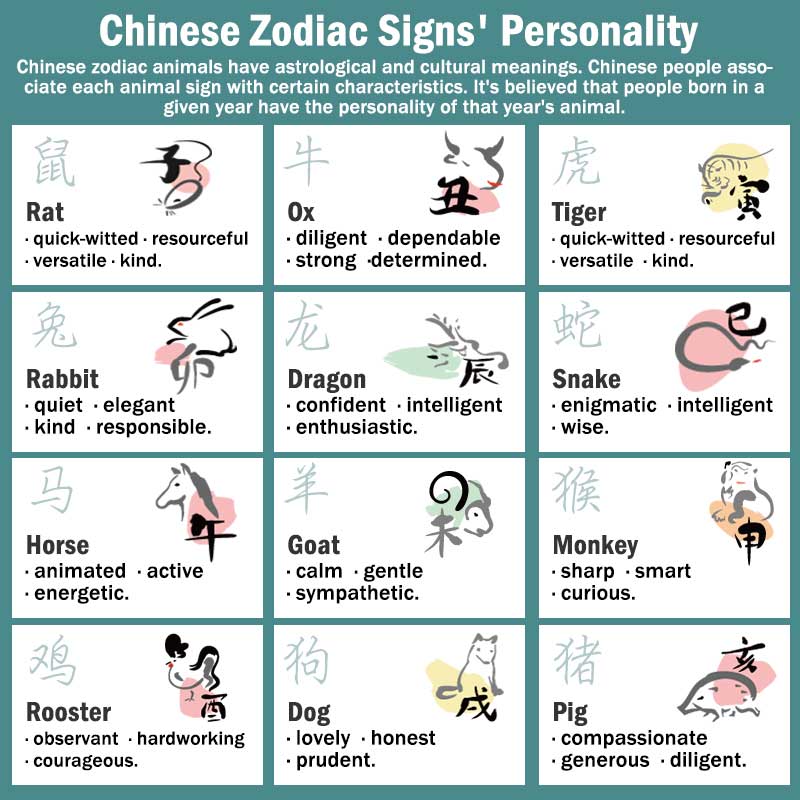 Silver
♥ Calm ♥ Balance ♥ Blessing ♥ Protection ♥ Keep away evil spirits ♥
Silver has relatively stable chemical properties and is not easy to deteriorate. At the same time, silver also has certain effects on the human body. Silver is one of the seven treasures of Buddhism. Wearing silver jewelry can protect you from evil spirits. Silver can sterilize and reduce inflammation, detoxify and maintain health, and prolong life. Long-term use can accelerate metabolism and enhance resistance.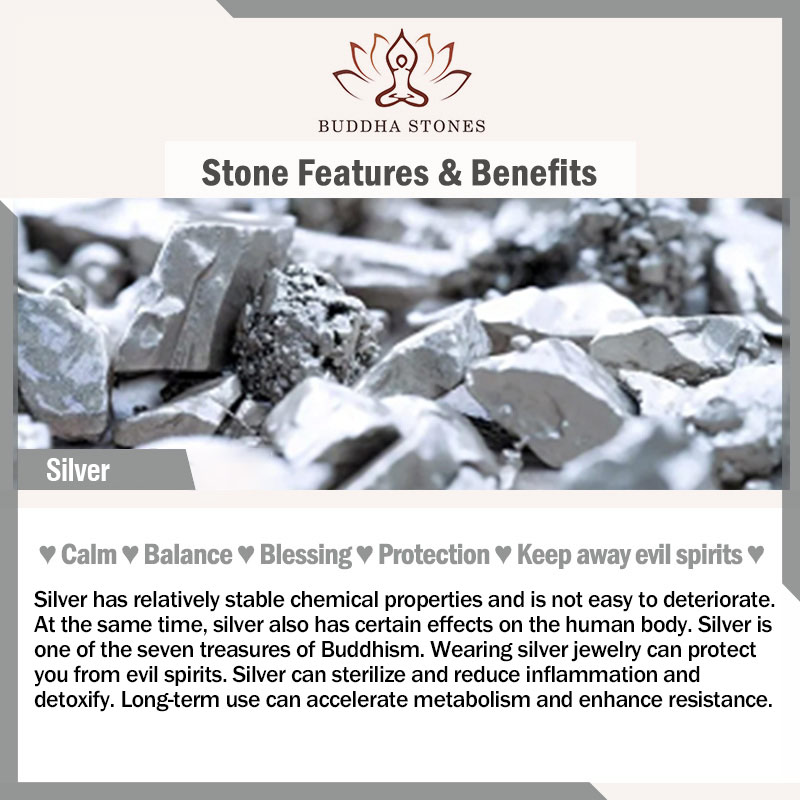 Pearl
♥Happiness ♥Calm ♥Peace ♥ Wealth ♥ Purity ♥
The Sanskrit name for pearl is mani, which is an ancient organic gemstone, mainly produced in pearl molluscs and mother-of-pearl mollusks. The international gem community lists pearls as the lucky stone for the June birth. Pearls symbolize health, purity, wealth and happiness, and have been loved by people since ancient times. Pearl also has medicinal value and has the effect of calming nerves and relieving shock. Modern research shows that pearls have unique effects in improving human immunity and whitening.
Specifications:
Item Type: Bracelet
Bracelet Length: 16.5+3.8cm
Bracelet Size: Tiger(12mm),

Pearl (3m

m)
Note:
1. Products are made of natural materials, please take off the product when you are ready to sleep or wash.
2. The above data is manual measurement, there is a slight deviation, please understand!
3. The materials used in all our products are naturally environmentally friendly.
4. These products are HANDMADE and NATURAL, therefore they may present some irregularities and due to lighting effects, the color may slightly vary from the one shown in the picture.