---
In order to provide you with the best experience, all our products are made by master craftsmen with selected high-quality materials and everyone owns its unique positive meaning. We hope these meaningful items will bring you good luck and positive change.💕
Product Description
Gray Agate
♥ Focus ♥ Positivity ♥ Balance ♥
Gray Agate is a grounding stone, bringing about an emotional, physical, and intellectual balance. They aid in centering and stabilizing physical energy. Gray Agate has the power to harmonize yin and yang, the positive and negative forces that hold the universe in place. It works slowly but brings great strength. Its multiple layers can bring hidden information to light.
Pearl
♥Happiness ♥Calm ♥Peace ♥ Wealth ♥ Purity ♥
The Sanskrit name for pearl is mani, which is an ancient organic gemstone, mainly produced in pearl molluscs and mother-of-pearl mollusks. The international gem community lists pearls as the lucky stone for the June birth. Pearls symbolize health, purity, wealth and happiness, and have been loved by people since ancient times. Pearl also has medicinal value and has the effect of calming nerves and relieving shock. Modern research shows that pearls have unique effects in improving human immunity and whitening.
Copper
♥ Balance ♥ Self Care ♥ Healing ♥ Wealth ♥ Luck
Copper metal is a good conductor of heat and electricity. Spiritually, it also grounds and transfers vibration frequencies from the physical realm to the spiritual one, and vice versa. As a result, you can channel and communicate with higher dimensional beings, cleanse your aura, mind, and find out information from the spiritual world. Copper metal is the giver of positivity and goodness, as well as the bringer of good luck in various endeavors. It attracts money, prosperity, and all-round abundance.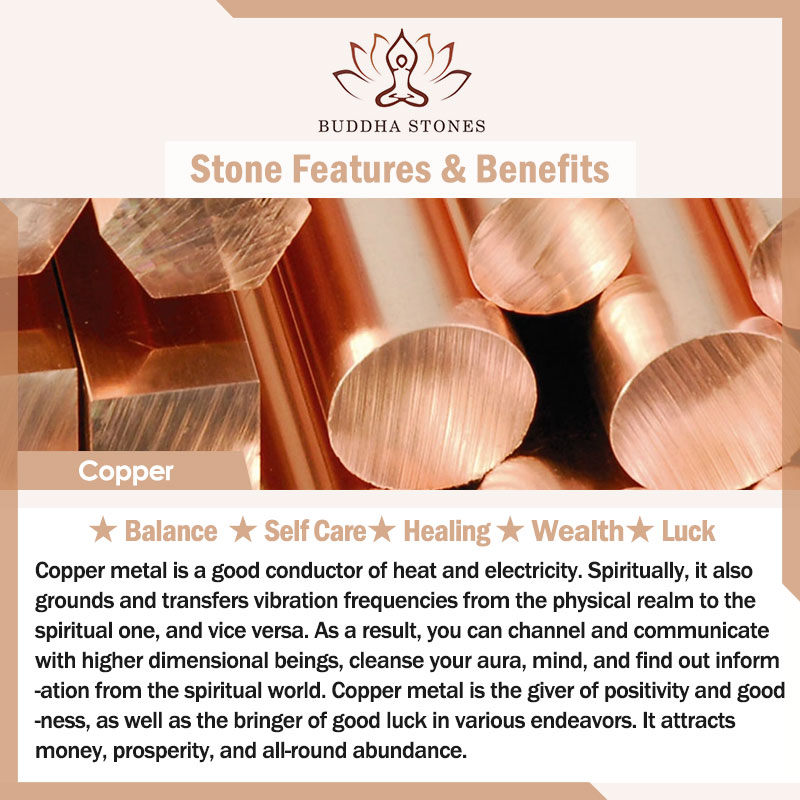 Specifications:
Item Type: Bracelet
Bead Size: 8mm, 10mm
Wrist Circumference: 14-20cm
Charm Length: 20cm
Bracelet Length: Adjustable
Material: Gray Agate, Pearl, Copper Gold Plating
Note:
1. Products are made of natural materials, please take off the product when you are ready to sleep or wash.
2. The above data is manual measurement, there is a slight deviation, please understand!
3. The materials used in all our products are naturally environmentally friendly.
4. These products are HANDMADE and NATURAL, therefore they may present some irregularities and due to lightning effects, the colour may slightly vary from the one shown in the picture.