---
In order to provide you the best experience, all our products are made by master craftman with selected high-quality materials and everyone owns its unique positive meaning. We hope these meaningful items will bring you good luck and positive change.💕
Product Description
Guan Gong
Guan Gong has been worshiped by generations in China and to some extent globally. Guan Gong (Lord Guan) is a commonly used deity name. He was honored as a god of war and wealth.

The Guan Gong offers both status and protection to those who invite him into their homes or places of work. His presence is highly desired by businessmen and those seeking protection and equality.

Guan Yu is admired by three major religions in China. For Confucians, he is a warrior sage. For Taoists, he is 'Holy Ruler Deity Guan'. And for Buddhists, he is the Sangharama Bodhisattva.

Merchants venerated Guan Gong as the god of wealth. They believed Guan Gong would bless them with good fortune and business and protect their wealth.

Lord Guan has thick eyebrows and big eyes, and his expression is serious. Holding a big sword, and dignified and mighty.

It means both loyalty and righteousness, auspiciousness, and good luck.
Lord Guan
♥ Justice ♥ Wealth ♥ Keep away evil spirits ♥
In the culture of Tibetan Buddhism, Lord Guan is the intelligent protector of the four bodhisattvas, Mañjuśrī (मञ्जुश्री), Avalokiteśvara (अवलोकितेश्वर), Vajrapāṇi (वज्रपाणि), and Padmasambhava (पद्मसम्भव). Lord Guan symbolizes loyalty, benevolence and righteousness. Putting the statue of Lord Guan in your home can protect your wealth from villains. In traditional culture of Feng Shui, Lord Guan can also be used as a god of wealth, seeking good luck and attracting wealth.
DRAGON
♥ Luck ♥ Strength ♥ Protection ♥ Success ♥
In China, the dragon and the phoenix are symbolized auspiciousness. The dragon is the fifth animal in the Chinese zodiac. They traditionally symbolize potent and auspicious powers, particularly control over water, rainfall, typhoons, and floods. In Chinese culture, the dragon represents good luck, strength, health, and also the male element Yang. In systematized mythology, the dragon is considered male and is paired with the phoenix (female); together the two creatures symbolize marital harmony. The dragon works as a mirror to the phoenix, symbolizing masculine energy, strength, and protection.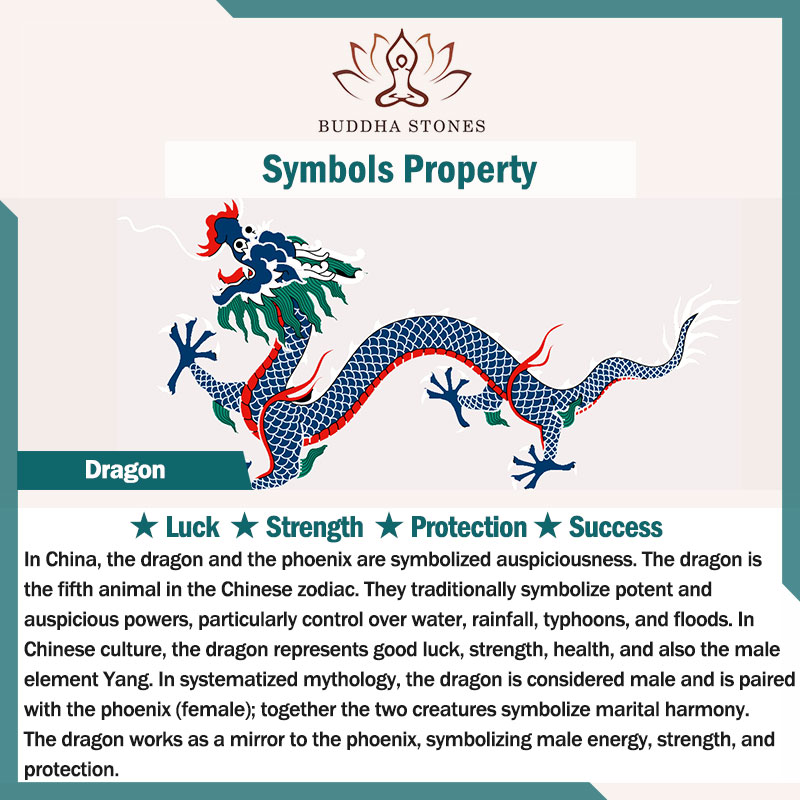 Jade
♥ Prosperity ♥ Abundance ♥ Luck ♥
Jade is long known and valued for its beauty and powers of healing and protection. This is a very important stone, especially if you will be doing business, transacting with a client, closing a sale, or conducting any business deal that you want to have favorable results. Jade will help you have a positive attitude towards money, and it will make you visualize yourself working, earning, and using money purposefully and creatively. The prosperous energies of Jade will help you find the best course of action on matters that involve your finances and personal wealth. Jade stone will support your financial growth and expansion. It will also promote new beginnings and give you the guidance that you need to be successful and wealthy!
Specifications:
Item Type: Necklace
Necklace Length: 50cm
Pendant Size: 53.8*35*12mm (Length*Width*Thickness)
Material: Jade, String
Weight: 52.9g (Only Pendant)
Note:
1.Products are made of natural materials, please take off the product when you are ready to sleep or wash.
2.The above data is manual measurement, there is a slight deviation, please understand!
3.The materials used in all our products are naturally environmentally friendly.
4. These products are HANDMADE and NATURAL, therefore they may present some irregularities and due to lightning effects, the colour may slightly vary from the one shown in the picture.