---
In order to provide you the best experience, all our products are made by master craftman with selected high-quality materials and everyone owns its unique positive meaning. We hope these meaningful items will bring you good luck and positive change.💕
Product Description
Chalcedony
♥ Positive ♥ Harmony ♥ 
Chalcedony is a nurturing stone that promotes brotherhood and goodwill. It absorbs negative energy. It brings the mind, body, emotions, and spirit into harmony. It also contains a lot of wisdom and meaning for those who are seeking it, especially under the pretense that it can teach you a lot about yourself. Chalcedony is best used during moments of indecision and frustration, showing an intense ability to help people think through decisions in a way they are not typically confronted with.
Garnet
♥ Purification ♥ Protection ♥ Calm Stability ♥ Passion ♥
Garnet provides protection and calmingand stable vitality during useGarnet can purifyandreactivate the chakraslt can revitalize purify and balance energy,and bringtranquility or passion appro priately.
Green Agate
♥ Longevity ♥ Absorbs negative energy ♥ Relaxation ♥ Hope ♥ 
Green agate is known as the stone of longevity, and it is believed to has a beneficial effect on mind and spirit, clearing the mind from evil thoughts and bustle. Besides, it helps to eliminate negative energy such as stress, fatigue, turbidity, etc.
Yellow Agate
♥ Courage ♥ Happiness ♥ Success ♥
Yellow Agate is a stone that strengthens courage, confidence, and happiness in your life. It is believed to improve mental clarity. It attracts prosperity and success, while also encouraging creativity and optimism. Yellow Agate harmonizes yin and yang energy in the body. It encourages the assimilation of life experiences and facilitates stable spiritual growth. It is a spiritual stone, bringing your spiritual experiences into everyday reality.
White Agate
♥ Improve mentality♥ Thinking♥ Calmness♥ Purity ♥
It is considered as a grounding stone that is able to bring spirituality into your life, improving mental functions and help you think clearly especially when you are concerned about some issues. The white color of Agate gemstone is associated with peace, calmness, purity, and protection.
PiXiu
♥ Wealth ♥ Luck ♥ Keep away evil spirits ♥
Pi Xiu is also known as Pi Yao. This is a powerful Chinese talisman to bring riches into the home or workplace.
Perhaps even more important is the notion that this creature will not permit wealth to leave the home or workplace.
Pi Xiu is especially popular among business people, investors, and gamblers in Asia. It is regarded as a dominant attractor of money.
The Pixiu provides a minimum of six blessings as follows: Conducts good luck and fortune, Generate good Feng Shui or Earth luck, Enhances wealth and riches, Protects individuals and building, Protects against evil forces, obstacles, and hardship, Brings unexpected windfall luck, One of the popular ways to retain a Pixiu is to wear it on a bracelet.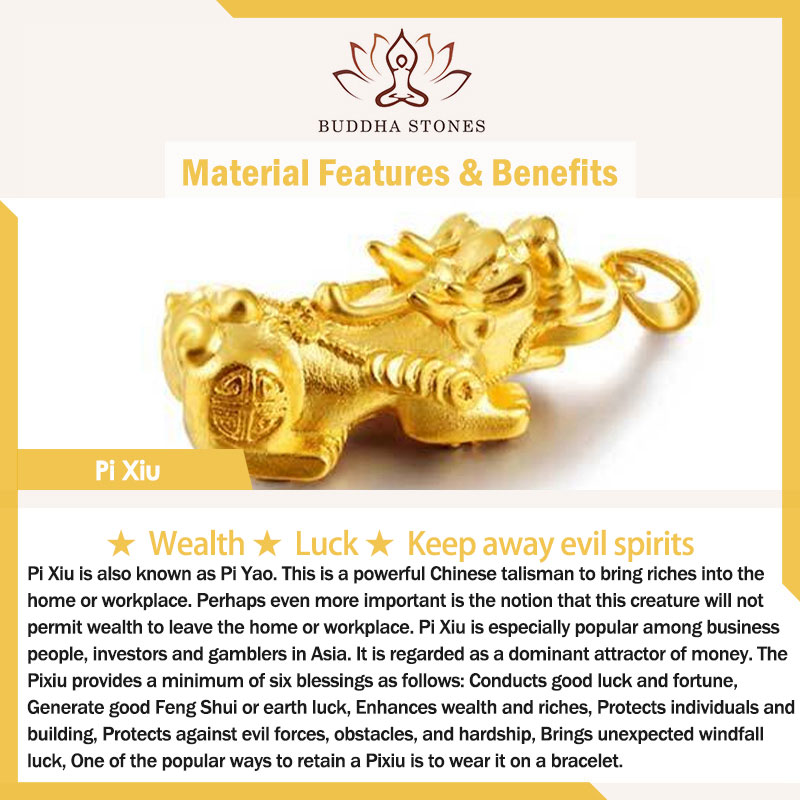 Specifications:
Item Type: Bracelet
Bead Size: 8mm, 10mm
Material: Chrysoberyl, Garnet, Green Agate, Yellow Agate, White Agate
Note:
1.Products are made of natural materials, please take off the product when you are ready to sleep or wash.
2.The above data is manual measurement, there is a slight deviation, please understand!
3.The materials used in all our products are naturally environmentally friendly.
4. These products are HANDMADE and NATURAL, therefore they may present some irregularities and due to lightning effects, the colour may slightly vary from the one shown in the picture.