---
In order to provide you the best experience, all our products are made by master craftman with selected high-quality materials and everyone owns its unique positive meaning. We hope these meaningful items will bring you good luck and positive change.💕
Product Description
Red String
♥ Protection ♥ Luck ♥ Faith ♥ Strength ♥ Connection ♥
In lineages of Tibetan Vajrayana Buddhism, tying a cord or string around the wrist is common during ceremonies. Traditionally, the Lama blesses the string and then ties a knot and imbues it with a mantra. Similar to other traditions, it's said that these red cords bring luck and offer protection.
In ancient Chinese legend, the Red Thread of Fate is - invisible and ties all those whose lives will intertwine together. It is governed by the Chinese God of marriage, Yue Lao, as it's primarily associated with the link between two people destined to be married.
Throughout history and across philosophies, the red string has been worn for protection, faith, good luck, strength, and connection.
Today many people use it as a reminder that they're not alone. It's also a symbol of being loved, supported and, feeling safe and secure. For others, it's a prompt to stay positive while facing any adversity.
At Buddhastones, we believe you make your own luck.
The red string can serve as an opportunity to redirect and realign your core beliefs. It can serve as a reminder of your goals, of who you are, and who you most desire to be. It can serve as a reminder of a connection between you and a loved one. It can make you feel like you're safe and protected. It can aid in helping you feel prosperous and lucky.
DRAGON SYMBOL
♥Luck ♥Strength ♥Protection ♥Success
In China, the dragon and the phoenix are symbolized auspiciousness. The dragon is the fifth animal in the Chinese zodiac. They traditionally symbolize potent and auspicious powers, particularly control over water, rainfall, typhoons, and floods. In Chinese culture, the dragon represents good luck, strength, health, and also the male element Yang. In systematized mythology, the dragon is considered male and is paired with the phoenix (female); together the two creatures symbolize marital harmony. The dragon works as a mirror to the phoenix, symbolizing masculine energy, strength, and protection.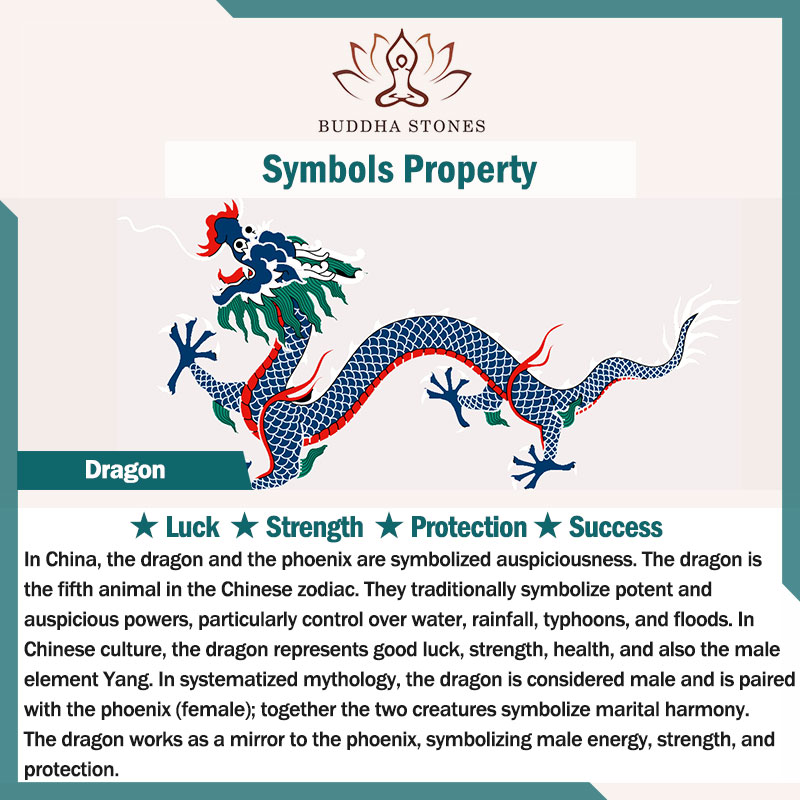 Specifications:
Item Type: Bracelet
Gender: Unisex
Charm Size:1.5 cm
Rope Perimeter:6.3"- 9.84" / 16cm-25cm
Adjustable Drawstring Closure
Material: Copper - 18K Gold Plated, Rope
Note:
1. Products are made of natural materials, please take off the product when you are ready to sleep or wash.
2. The above data is manual measurement, there is a slight deviation, please understand!
3. The materials used in all our products are naturally environmentally friendly.
4. These products are HANDMADE and NATURAL, therefore they may present some irregularities and due to lighting effects, the color may slightly vary from the one shown in the picture.