---
Harness the aura and energy of the gods with this stylish bracelet. The dark brown lightning strike wood used in it can protect you against evil spirits and negative thoughts through the power that has been fused into it by bolts of lightning. You will have your mind cleared of all self-limiting beliefs, and your ego will detach from you so that you can stay clear-headed and objective throughout your life. The powers that lightning wood offers you are beyond simple "tricks" and can be witnessed by anyone who wears it on themselves.
♥ Keep away evil spirits ♥ Auspiciousness ♥ Protection ♥
About Lightning Strike Wood
Lightning Strike Wood is the essence of the combination of yin and yang of heaven and earth, and the magical work of nature. Through lightning strikes, the energy of thunder and lightning is concentrated in the wood. Lightning strikes the wood, which possesses the aura of the gods. Wearing it on the body can resist the evil spirit and bring auspiciousness.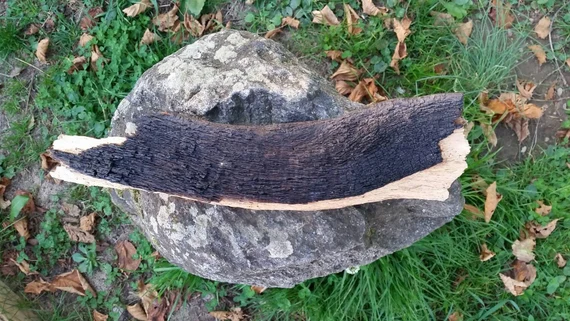 The Lightning Strike Wood provides a minimum of four blessings as follows:
As a talisman to help you ward off evil spirits, giving you protection
Brings you luck and positivity to your life
Give you the strength to overcome difficulties
Bring you an auspicious new beginning
Om Mani Padme Hum
These Six True Words 'Om Mani Padme Hum' – are the most common mantra in Tibet. This mantra produces sound and vibration which allows you to feel at one with the universe. The mantra is considered to have high spiritual and creative power.
Six True Words (Om Mani Padme Hum) Meaning:
Om means the vibration of the universe and symbolizes one's impure body, speech, and mind.
Ma Ni means the jewel, symbolizes factors of the method, compassion, and love, the altruistic intention to become enlightened.
Pad Me means lotus and symbolizes wisdom.
Hum means inseparability; symbolizing purity and can be achieved by the unity of method and wisdom.
This chant brings you joy and peaceful vibrations and supposedly, contained in this verse is the truth of the nature of suffering and how to remove its causes.
Specifications:
Item Type: Bracelet
Bead Size: 10mm, 13mm, 15mm
Gender: Unisex
Material: Lightning Strike Wood
Note:
1. Products are made of natural materials, please take off the product when you are ready to sleep or wash.
2. The above data is manual measurement, there is a slight deviation, please understand!
3. The materials used in all our products are naturally environmentally friendly.
4. These products are HANDMADE and NATURAL, therefore they may present some irregularities and due to lighting effects, the color may slightly vary from the one shown in the picture.