---
In order to provide you with the best experience, all our products are made by master craftsmen with selected high-quality materials and everyone owns its unique positive meaning. We hope these meaningful items will bring you good luck and positive change.💕
Product Description
Nine Palaces Bagua Amulet
According to legend, Master Padmasambhava of Tantric Buddhism is compassionate to all sentient beings due to the karma caused by time, space, orientation, and inauspiciousness in the world, and integrates the religious cultures of Brahma, Tibet and Han to cast according to the middle part of the Manjusri Nine Palaces and Eight Trigrams.
Contains "Bagua", "Zodiac Signs" and "Curse Wheel".
The three-layer mantra wheel held by the "Zibaza" mythical beast in the middle part of the Nine Palaces Bagua Amulet uses "Tiantie", "Tuojia" and "Lima", which are very special in Tibetan areas.
It is made of these materials to be worn everywhere.
Bagua
♥ Balance ♥ Harmony ♥ 
Made of eight trigrams, each with three lines with the Yin-Yang symbol enclosed in the center. The three lines in the trigrams are a representation of Yin Yang energies itself. If they are broken, it symbolizes yin energy, and the unbroken denotes Yang energies. Traditionally, the word Bagua translates to eight symbols but it is extensively used to achieve balance in various aspects of life.In this Feng Shui symbol, each trigram relates to a specific area of the health of the individual and the home. It is also used to attain balance in Astronomy, Astrology, Geography, Anatomy and the family.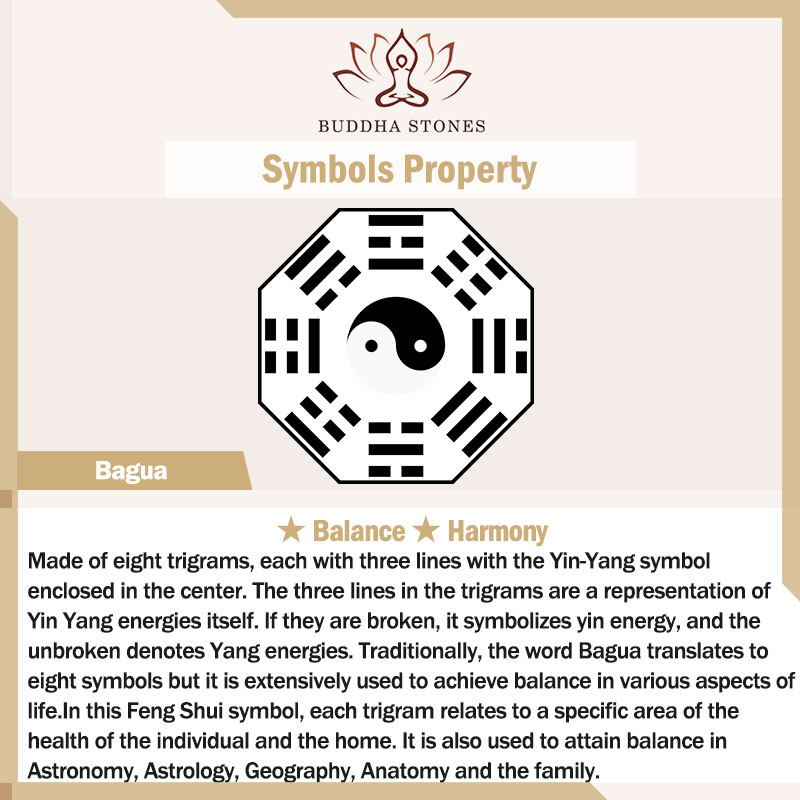 Bodhi Seed
♥ Auspiciousness ♥ Luck ♥ Wealth ♥
Bodhi in sanskrit translates to "enlightened" or "awakenened," therefore the bodhi seed means "enlightened seed" . As an "enlightened" seed, many practitioners wear the bodhi seeds during their meditation practices to ultimately reach enlightenment.Bodhi is also a term in Buddhism to reflect a Buddha's understanding of the true nature of things.These dark-speckled seed beads have special meaning for all seekers of divine wisdom.
Invite bodhi seeds into your mindful practice and spiritual journey to enhance your awareness and connection.
Yak Bone
♥ Strength ♥ Keep away evil spirits ♥ Balance ♥
Yak is the best friend of Tibetans. It is praised as a beautiful sacred animal by Tibetans. It is uniquely carved with pure natural materials such as yak bones and yak horns. The yak bone bracelet is worn to help the body balance its essential energy and warding off evil spirits. Wear the Bracelet and let its healing properties radiate through your body. Bone is believed to give strength, it is said to increase Prana, a Sanskrit word which means "LIfe Force".
PS: We use bone jewelry from Yaks that have passed away from natural means.
Specifications:
Item Type: Bracelet, Necklaces & Mala
Number of beads: 108
Material: Bodhi Seed, Cinnabar, Copper, Tiger Eye, Coloured Glaze, Purple Core Wood, White Crystal, Coconut, Turquoise;
Lava Rock, Yak Bone, Green Aventurine, Sandalwood
Shoushan Stone, Small Leaf Red Sandalwood, Aquamarine, Yak Horn, Goat Horn;
Three Eyed Dzi Bead, Rudraksha Bodhi Seed, Agate, Red Sandalwood;
Thuja, White Turquoise, Peach Wood
Note:
1. Products are made of natural materials, please take off the product when you are ready to sleep or wash.
2. The above data is manual measurement, there is a slight deviation, please understand!
3. The materials used in all our products are naturally environmentally friendly.
4. These products are HANDMADE and NATURAL, therefore they may present some irregularities and due to lighting effects, the color may slightly vary from the one shown in the picture.