---
In order to provide you the best experience, all our products are made by master craftman with selected high-quality materials and everyone owns its unique positive meaning. We hope these meaningful items will bring you good luck and positive change.💕
Product Description
Aquamarine
♥ Peace ♥ Serenity ♥ Healing ♥
The aquamarine crystal is thought to help wearers better and more holistically heal from emotional trauma through cooling tempers and conflict. Other benefits of wearing aquamarine include stress relief, helping suppressed emotions resurface and instilling a sense of peace.
Strawberry Quartz
♥ Love ♥ Healing ♥ Positive
In addition to the generic healing properties of Quartz, Strawberry Quartz stimulates the heart energy centre, filling ones total person with the feeling of love and with the euphoria of the true loving environment.
Citrine
♥ Happiness ♥ Prosperity ♥ Generosity ♥ Pleasure ♥ Protection
Citrine energises every level of life.lt cleanses the chakras and opens the intuition Citrine is said to attract wealth,prosperity and success. lt imparts joy, wonder,
delight and enthusiasm. Raises self-esteem and self-confidence.Citrine promotes motivation, activates creativity and encourages self-expression.lt is believed to release negative traits,depression, fears and phobias.
Amethyst
♥ Increases nobility ♥ Spiritual awareness ♥ Inner peace and healing ♥ Healing of body, mind & soul ♥ Positive transformation ♥ Meditation ♥ Balance ♥ Relieves stress ♥ Communication
A gorgeous purple gemstone, the amethyst is said to bring strength, courage, and peace. These benefits can help promote healing. It's a soothing stone with peaceful properties, with a quiet energy that should also help release creativity. Since the stone has such tranquil qualities, it's a great gift for anyone suffering from anxiety, mood disorders, and addictions. It is said to promote spiritual and physical health.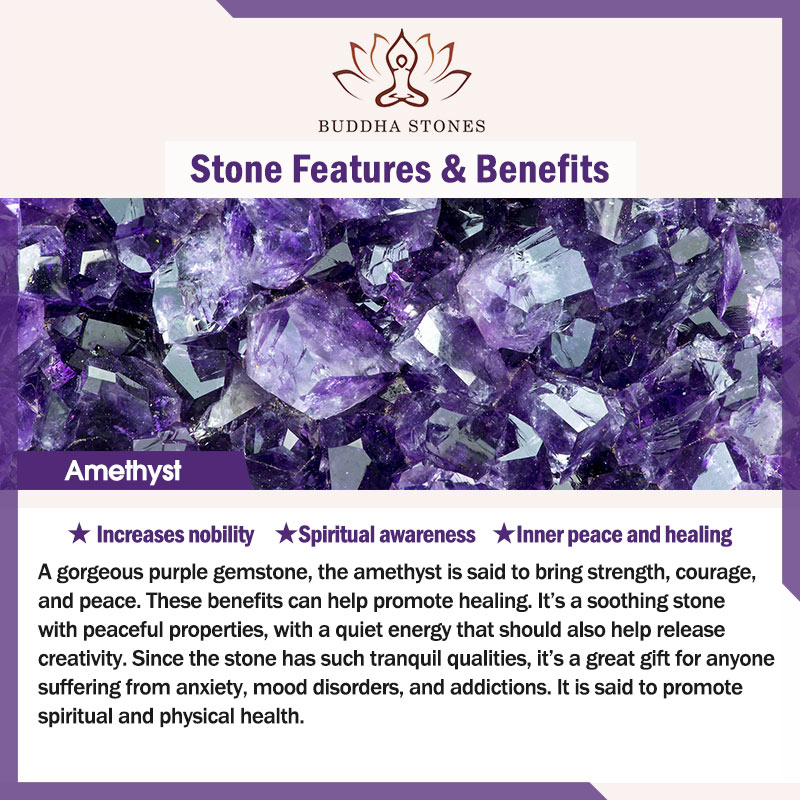 Moonstone
♥ Love ♥ Calm ♥ Charming ♥ Healing ♥ Positive ♥ 
Moonstone is the lover's stone and the birthstone of luck in June, symbolizing health and wealth. Moonstone can relieve irritability and negative emotions. If worn by couples, it has a positive effect on love, it will help increase charm and enhance feelings. Wearing the moonstone on the left hand can help calm the mood and absorb positive energy; wearing it on the right hand can increase personal charm and promote interpersonal relationships.
PiXiu
♥ Wealth ♥ Luck ♥ Keep away evil spirits ♥
Pi Xiu is also known as Pi Yao. This is a powerful Chinese talisman to bring riches into the home or workplace.
Perhaps even more important is the notion that this creature will not permit wealth to leave the home or workplace.
Pi Xiu is especially popular among business people, investors, and gamblers in Asia. It is regarded as a dominant attractor of money.
The Pixiu provides a minimum of six blessings as follows: Conducts good luck and fortune, Generate good Feng Shui or Earth luck, Enhances wealth and riches, Protects individuals and building, Protects against evil forces, obstacles, and hardship, Brings unexpected windfall luck, One of the popular ways to retain a Pixiu is to wear it on a bracelet.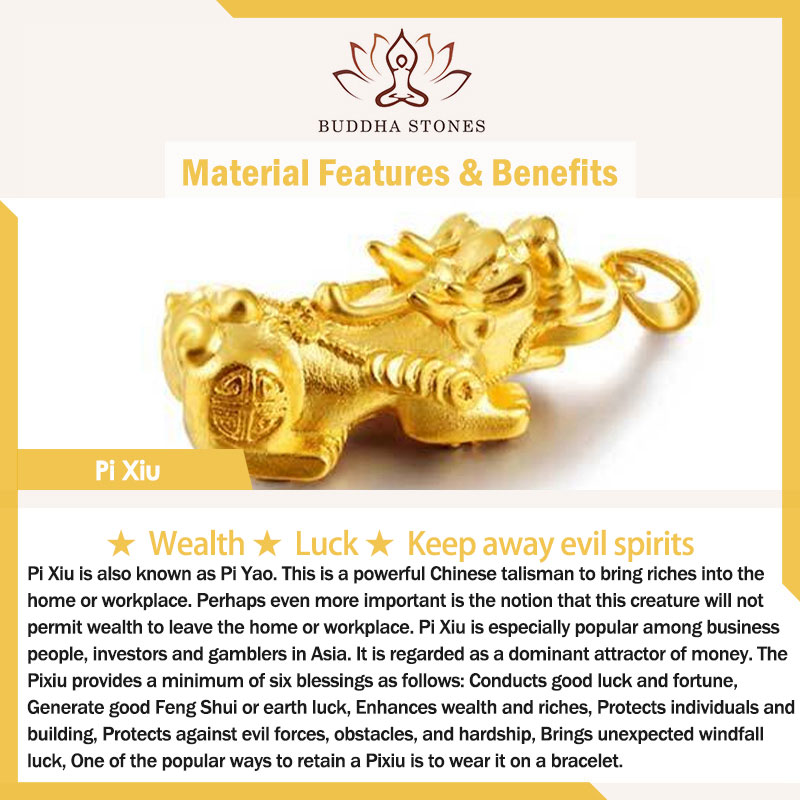 Specifications:
Item Type: Bracelet
Band Type: premium elastic string
Wrist Circumference: 14-19cm
Beads Size: 6mm
Material: Strawberry Quartz, Aquamarine, Citrine, Amethyst, Moonstone
Note:
1.Products are made of natural materials, please take off the product when you are ready to sleep or wash.
2.The above data is manual measurement, there is a slight deviation, please understand!
3.The materials used in all our products are naturally environmentally friendly.
4. These products are HANDMADE and NATURAL, therefore they may present some irregularities and due to lightning effects, the colour may slightly vary from the one shown in the picture.