---
In order to provide you the best experience, all our products are made by master craftman with selected high-quality materials and everyone owns its unique positive meaning. We hope these meaningful items will bring you good luck and positive change.💕
Product Description
Bodhisattva Tara
Tara (Sanskrit: तारा, tārā; Tib. སྒྲོལ་མ, Dölma), Ārya Tārā, or Shayama Tara, also known as Jetsun Dölma (Tibetan language: rje btsun sgrol ma) is an important figure in Buddhism, especially revered in Tibetan Buddhism. She appears as a female bodhisattva in Mahayana Buddhism, and as a female Buddha in Vajrayana Buddhism. She is known as the "mother of liberation", and represents the virtues of success in work and achievements.
Tārā is a meditation deity revered by practitioners of the Tibetan branch of Vajrayana Buddhism to develop certain inner qualities and to understand outer, inner and secret teachings such as karuṇā (compassion), mettā (loving-kindness), and shunyata (emptiness).
In the Himalayan region, especially in Tibet and Nepal, Tara's status is more that of a supreme goddess or female buddha than a bodhisattva. She is referred to as the Wisdom Goddess, the Embodiment of Perfected Wisdom, the Goddess of Universal Compassion, and the Mother of all Buddhas.
Chenrezig
Chenrezig, also known as Avalokitesvara, "One who looks with unwavering eye," is the most revered of all Bodhisattva, embodying the compassion of all Buddhas. He listens to the prayers of all sentient beings in times of challenge and difficulty. In Tibetan, Avalokiteśvara is Chenrézig, (Tibetan: སྤྱན་རས་གཟིགས་) and is said to emanate as the Dalai Lama, the Karmapa and other high lamas.
An amazing Chenrezig statue handmade in Tibet, China by a generation crafting family using traditional methods. It features inlaid coral and turquoise.
Each copper statue is made using the gilt method. After casting, it is hand detailed and carved by master craftsmen before being completely gold-plated. Finally, Chenrezig's face is painted with gold.
This traditional process takes a considerable amount of time and skill. Each and every detail is truly incredible and takes months to create.
Recognized as the embodiment of compassion, Chenrezig is one of the most renowned and beloved Buddhist deities. Tibetans believe that every person whose heart is moved by love and compassion, who deeply and sincerely act for the benefit of others without concern for fame, profit, social position, or recognition expresses the activity of Chenrezig.
BODHISATTVA TARA SYMBOL
♥ Hope ♥ Calm ♥ Protection ♥ Keep away evil spirits ♥
Bodhisattva Tara (तारा) is a religious figure, the incarnation of Guanyin Bodhisattva. Bodhisattva Tara is green all over, the color of the division of Tibetan Buddhism, symbolizing life and hope. Bodhisattva Tara is known for saving people from disasters. In Tibet, the responsibility of saving the eight difficulties is unique to Bodhisattva Tara, so she is also called the rescue of the eight difficulties. When reciting the Bodhisattva Tara mantra, you must concentrate and chant with a sincere heart, and you should be dressed neatly in order to achieve a better healing effect.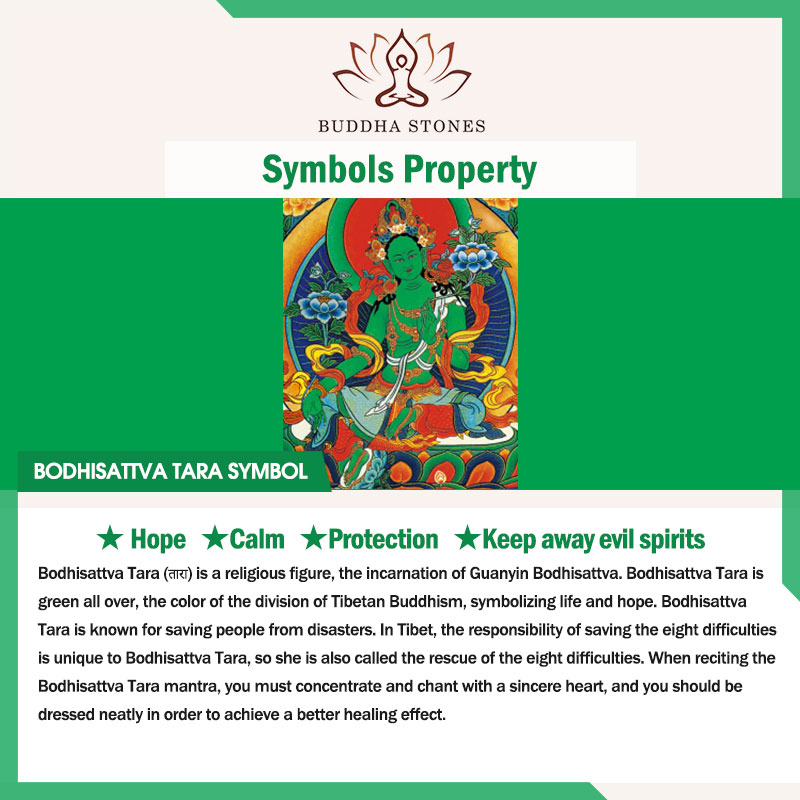 AVALOKITESVARA SYMBOL
♥ Wealth ♥ Success ♥ Harmony ♥ Keep away evil spirits ♥
Avalokiteshvara (अवलोकितेश्वर) is one of the four great bodhisattva in Buddhism. Buddhism considers Avalokitesvara to be a bodhisattva of great compassion, saving and liberating all living beings in distress. Wearing a Avalokiteshvara pendant for a long time can wash away the distracting thoughts in people's hearts and make people feel peaceful. There has been a saying that "men wear Avalokiteshvara and women wear Buddha". Many men pursue careers to be promoted, and Avalokiteshvara (Guan Yin in Chinese) is homophonic in "Guan Yin (Official)", so many men choose to wear Avalokiteshvara pendants to bless their official career.
Specifications:
Item Type: Decoration
Size: 22.5*11.5*8cm (Height*Length*Width), 23.5*11.5*7.5cm (Height*Length*Width)
Material: Copper
Weight: 1420g, 1520g
PS: Due to the handcrafted nature of the item, so may not be that perfect. The Statue cannot be wiped.
Note:
1.Products are made of natural materials, please take off the product when you are ready to sleep or wash.
2.The above data is manual measurement, there is a slight deviation, please understand!
3.The materials used in all our products are naturally environmentally friendly.
4. These products are HANDMADE and NATURAL, therefore they may present some irregularities and due to lightning effects, the colour may slightly vary from the one shown in the picture.