---
In order to provide you with the best experience, all our products are made by master craftsmen with selected high-quality materials and everyone owns its unique positive meaning. We hope these meaningful items will bring you good luck and positive change.💕
Product Description
Amethyst
♥ Increases nobility ♥ Spiritual awareness ♥ Inner peace and healing ♥ Healing of body, mind & soul ♥ Positive transformation ♥ Meditation ♥ Balance ♥ Relieves stress ♥ Communication
A gorgeous purple gemstone, the amethyst is said to bring strength, courage, and peace. These benefits can help promote healing. It's a soothing stone with peaceful properties, with a quiet energy that should also help release creativity. Since the stone has such tranquil qualities, it's a great gift for anyone suffering from anxiety, mood disorders, and addictions. It is said to promote spiritual and physical health.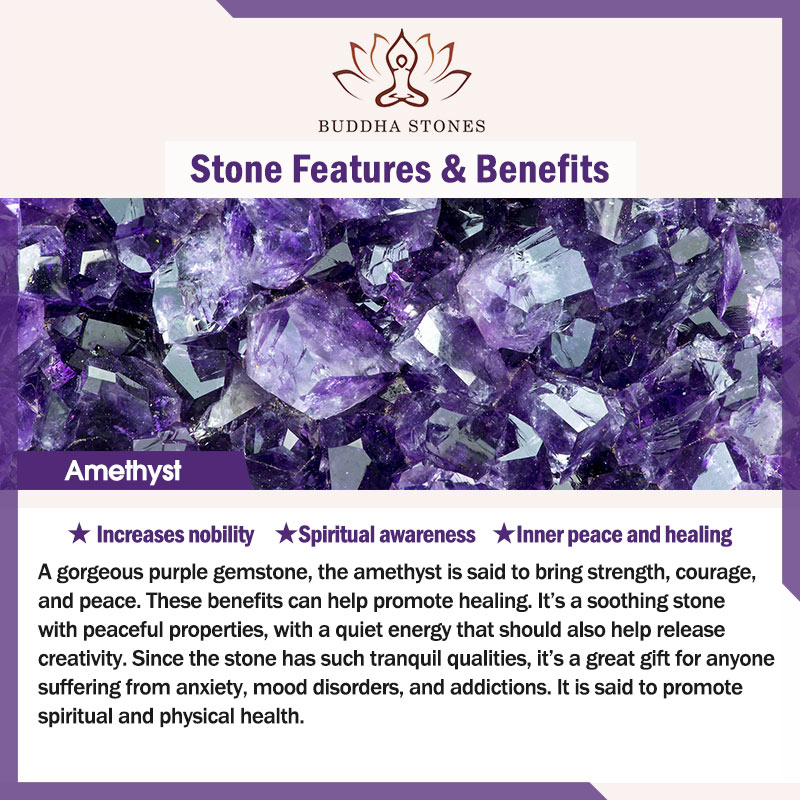 Say no to negativity.
Affirmations: Use positive and uplifting affirmations such as "My energy is safe and protected" or "I am glowing with positivity" to enhance the stone's effects.
Blue Sandstone
♥ Courage ♥ Calm ♥ Wealth ♥ Confidence ♥

Blue sandstone symbolizes bravery and perseverance, and helps gather wealth. The shining bright stars in the beautiful deep blue night sky bring courage, confidence and willpower, and increase vitality and impetus. Wearing blue sandstones can calm the mind, make people concentrate, mentally flexible, and improve concentration at work and personal learning ability.
Rose Quartz
♥ Unconditional love ♥ Self-love ♥ Mother love ♥ Caring ♥ Kindness ♥ Friendship ♥ Romantic love ♥ Platonic love ♥
A popular gemstone, the pink-hued rose quartz is said to help heal heartaches. Closely associated with love, the rose quartz seems to have a soothing, gentle energy that can calm an agitated wearer. A gift of rose quartz can be a wonderful message to someone going through a divorce, breakup, family estrangement, or any struggle with loneliness and lack of inner peace.
Lava Stone
♥ Clam ♥ Support ♥ Healing ♥
One of the main benefits attributed to black lava beads is the ability to
relieve anxiety and manage stressThis groundingstone is a great companion in times of change,strengtheningyour connection to the earth and
encouraging you to be in the present momentThese qualities make them ideal rocks for those who are seeking greater mental well-being.Lava stones energy encourages you to stay motivated and determined on the path to achievingyour dreams
DRAGON
♥ Luck ♥ Strength ♥ Protection ♥ Success ♥
In China, the dragon and the phoenix are symbolized auspiciousness. The dragon is the fifth animal in the Chinese zodiac. They traditionally symbolize potent and auspicious powers, particularly control over water, rainfall, typhoons, and floods. In Chinese culture, the dragon represents good luck, strength, health, and also the male element Yang. In systematized mythology, the dragon is considered male and is paired with the phoenix (female); together the two creatures symbolize marital harmony. The dragon works as a mirror to the phoenix, symbolizing masculine energy, strength, and protection.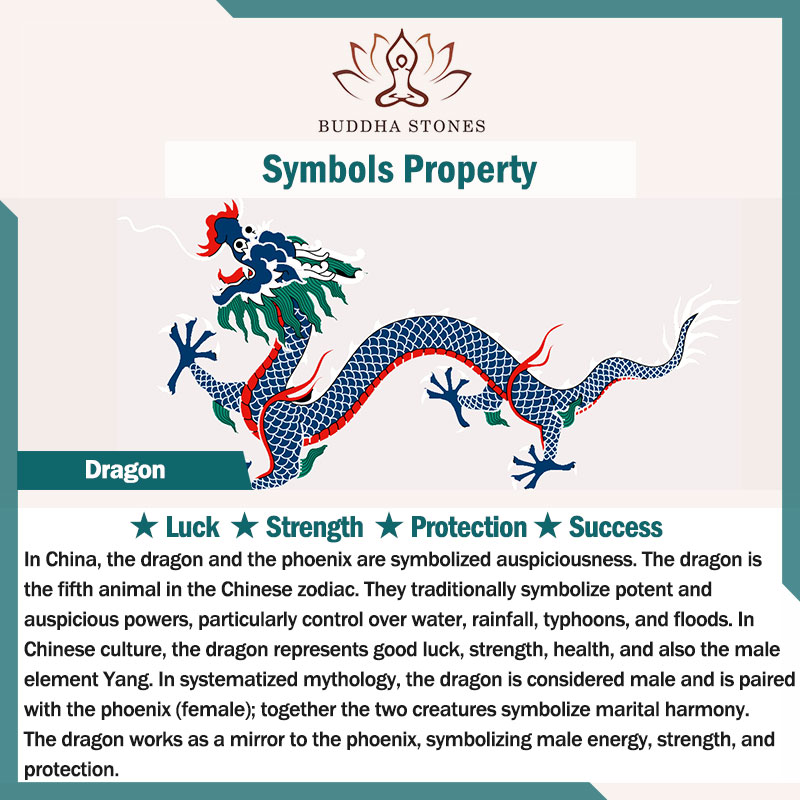 Specifications:
Item Type: Necklace
Band type: Chain
Necklace Size: 3.4 x 2.4 x 1cm
Necklace Length: 45 cm
Material: Amethyst, Brown Sand, Unakite, Blue Sandstone, Rose Quartz, Lava Stone, Green Aventurine, Black Onyx, Lapis Lazuli, Sodalite, Tiger Eye, White Crystal, Red Jasper, Opal, Blue Turquoise, Turquoise, White Turquoise
Note:
1. Products are made of natural materials, please take off the product when you are ready to sleep or wash.
2. The above data is manual measurement, there is a slight deviation, please understand!
3. The materials used in all our products are naturally environmentally friendly.
4. These products are HANDMADE and NATURAL, therefore they may present some irregularities and due to lighting effects, the color may slightly vary from the one shown in the picture.