---
In order to provide you with the best experience, all our products are made by master craftsmen with selected high-quality materials and everyone owns its unique positive meaning. We hope these meaningful items will bring you good luck and positive change.💕
Product Description
Cyan Jade
♥ Success ♥ Healing ♥ Harmony ♥ Calm ♥ Luck ♥ Longevity ♥
Cyan Jade gives a person the opportunity to find himself, to show in real life is deeply hidden talents. This stone fills with vitality, cleanses energy, and brings positive energy. This stone gives harmony with the surrounding world and with himself, has a beneficial effect on mind and spirit, clearing the mind from evil thoughts and bustle.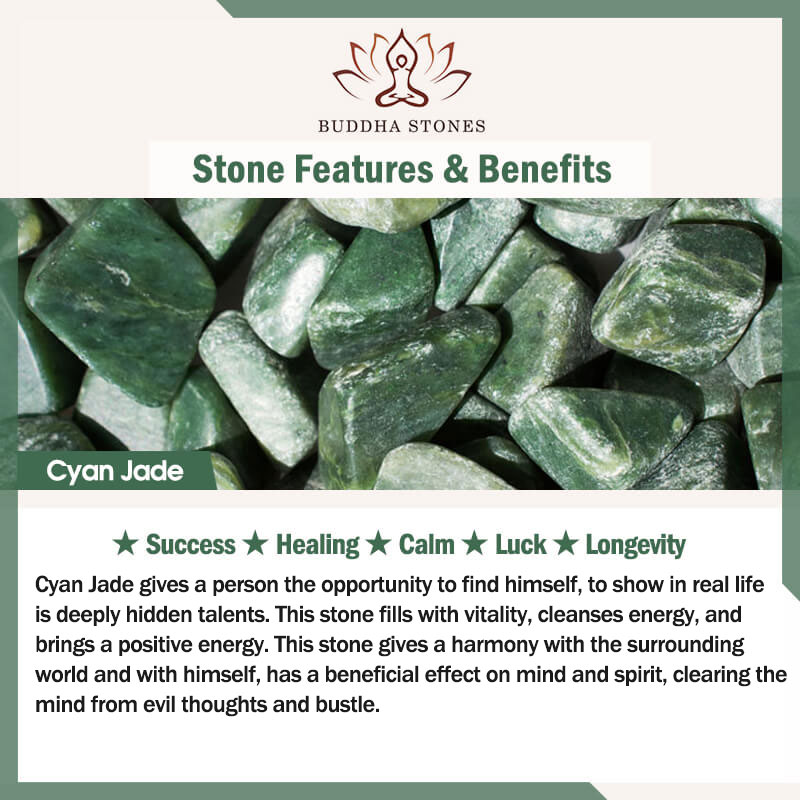 Obsidian
♥ Purification ♥ Transformation ♥ Fulfilment ♥ Metamorphoses ♥ Manifestation ♥ Practicality ♥
Obsidian is considered to be an earth-stone that activates the root chakra and grounds you in your connection to the Earth. It is said to clear the aura of negative energy.
Black Onyx
♥ Protection ♥ Fortune ♥ Support ♥
Black Onyx is a stone that offers up powerful vibrations of protection, strength, focus, and willpower. This stone is here to continuously push you forward in your life. Black Onyx not only will give you a jolt of energy to get up and start pursuing your dreams, but also protect you on your new journey.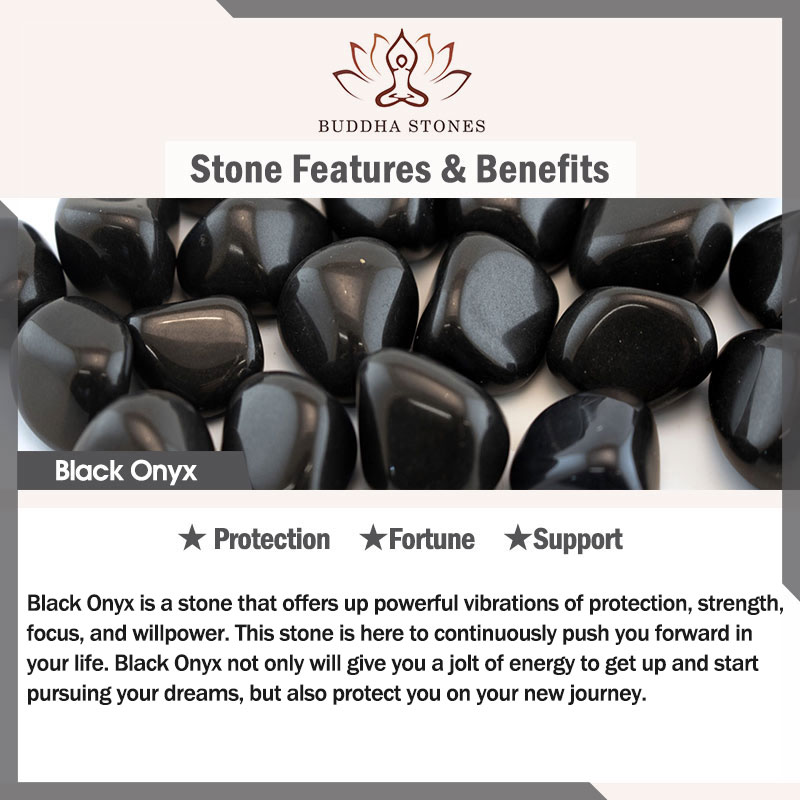 White Jade
♥ Protection ♥ Happiness ♥ Blessing ♥ Calm ♥ Harmony ♥ Luck ♥
White Jade is said to be a stone of protection! White Jade brings the wearer good fortune, luck, and protection, improves and enhances thinking and clarity, calms the soul while uplifting your heart, and makes wishes come true. Besides, it can protect yourself and your loved ones from negative energy.
Six True Words 'Om Mani Padme Hum'
♥ Love ♥ Focus ♥ Wisdom ♥ Purity ♥ Peace ♥ Creativity ♥ 
These Six True Words 'Om Mani Padme Hum' – are the most common mantra in Tibet. This mantra produces the sound and vibration which allows you to feel at one with the universe. The mantra is considered to have high spiritual and creative power. Six True Words (Om Mani Padme Hum) Meaning: Om means the vibration of the universe, symbolizes one's impure body, speech, and mind. Ma Ni means the jewel, symbolizes factors of the method, compassion, and love, the altruistic intention to become enlightened. Pad Me means lotus and symbolizes wisdom.Hum means inseparability; symbolizing purity and can be achieved by the unity of method and wisdom. This chant brings you joy and peaceful vibrations and supposedly, contained in this verse is the truth of the nature of suffering and how to remove its causes.
Lord Guan
♥ Justice ♥ Wealth ♥ Keep away evil spirits ♥
In the culture of Tibetan Buddhism, Lord Guan is the intelligent protector of the four bodhisattvas, Mañjuśrī (मञ्जुश्री), Avalokiteśvara (अवलोकितेश्वर), Vajrapāṇi (वज्रपाणि), and Padmasambhava (पद्मसम्भव). Lord Guan symbolizes loyalty, benevolence and righteousness. Putting the statue of Lord Guan in your home can protect your wealth from villains. In traditional culture of Feng Shui, Lord Guan can also be used as a god of wealth, seeking good luck and attracting wealth.
Specifications:
Item Type: Necklace, Pendant
Material: Cyan Jade, Obsidian, Black Onyx, White Jade
Gender: Unisex
Pendant Size: 56*37*10mm
Note:
1. Products are made of natural materials, please take off the product when you are ready to sleep or wash.
2. The above data is manual measurement, there is a slight deviation, please understand!
3. The materials used in all our products are naturally environmentally friendly.4. These products are HANDMADE and NATURAL, therefore they may present some irregularities and due to lighting effects, the color may slightly vary from the one shown in the picture.