---
In order to provide you the best experience, all our products are made by master craftman with selected high-quality materials and everyone owns its unique positive meaning. We hope these meaningful items will bring you good luck and positive change.💕
Product Description
Obsidian
♥ Purification ♥ Transformation ♥ Fulfilment ♥ Metamorphoses ♥ Manifestation ♥ Practicality ♥ 
Obsidian is considered to be an earth-stone that activates the root chakra and grounds you in your connection to the Earth. It is said to clear the aura of negative energy.
PiXiu
♥ Wealth ♥ Luck ♥ Keep away evil spirits ♥
PiXiu is especially popular among business people, investors, and gamblers in Asia. It is regarded as a dominant attractor of money.
The Pixiu provides a minimum of six blessings as follows: Conducts good luck and fortune, Generate good Feng Shui or Earth luck, Enhances wealth and riches, Protects individuals and building, Protects against evil forces, obstacles, and hardship, Brings unexpected windfall luck, One of the popular ways to retain a Pixiu is to wear it on a bracelet.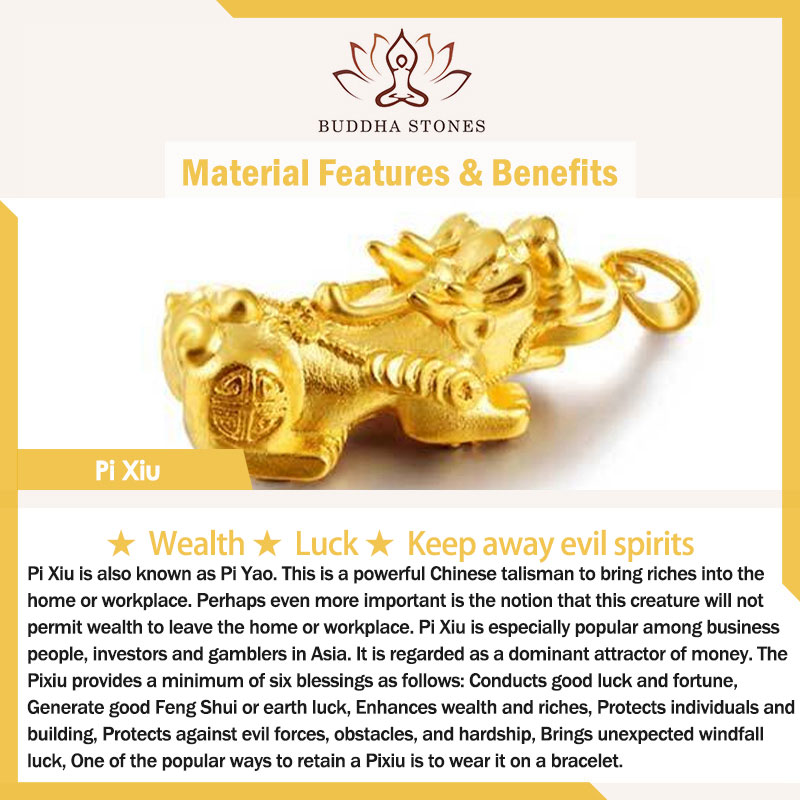 Red Agate
♥ Relieve pain ♥ Balance emotions ♥ Be brave ♥ Confidence ♥ Clear anxiety ♥ Focus ♥
The benefits of amber to the body include its ability to relieve headaches and balance hormones, balance emotions and boost mood!
Amber has the ability to eliminate fearful thoughts. It enhances confidence and allows you to better handle large projects or anxious thoughts.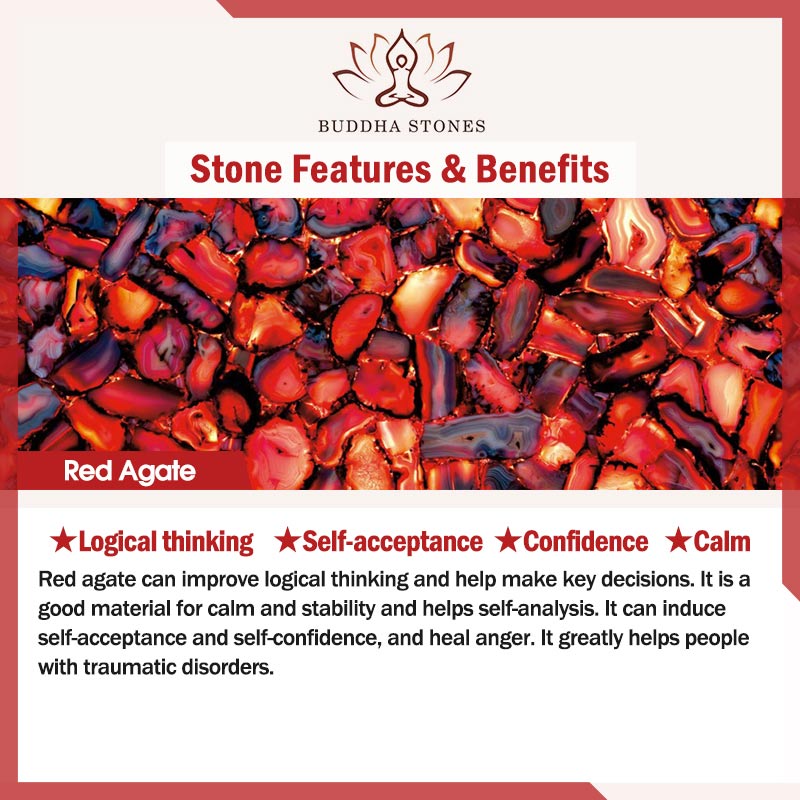 Blue Sandstone
♥ Listening ♥ Telepathy ♥ Stable ♥ Calm ♥
The best stone for those you want to listen more, blue sandstone is telepathic too. It can transform you into an empath and help to understand others around you. Blue sandstone powers are not limited to humans as you will be able to communicate with nature too. It brings you emotional stability and peace. If you're going through grief, blue sandstone can transform your feelings into productive actions.
Tiger Eye
♥ Protection ♥ Clear thinking ♥ Personal empowerment ♥ Integrity ♥ Willpower ♥ Practicality ♥ Grounding ♥ Power ♥ Courage ♥ Grace ♥
Tiger eye is said to help with staying centered and calmly practical despite the ups and downs of life. It is considered to help balance polarities and accept contradictions. It is a helpful stone for protracted difficult situations. It keeps you in the best state of mind to deal with problems as they come without getting overwhelmed, hopeless.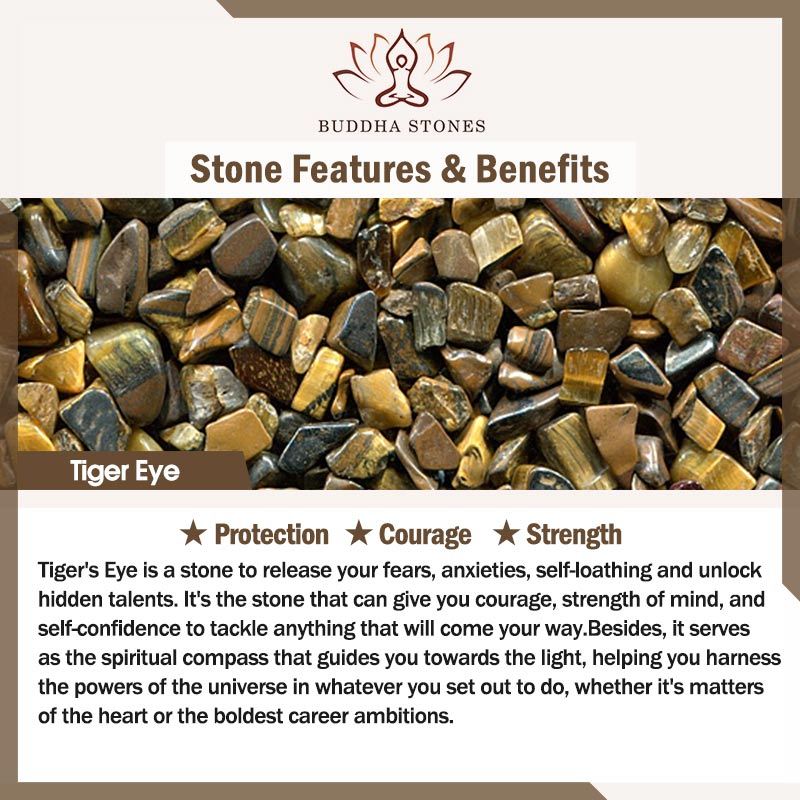 Pink Crystal
♥ Soothing ♥ Warmth ♥ Love ♥ Self-acceptance ♥
They will warm your heart and calm your soul. They will also help ease your emotions, soothe your body, and provide you with nourishing energy.Pink crystal promotes self-acceptance, self-worth, self-love and all kinds of love.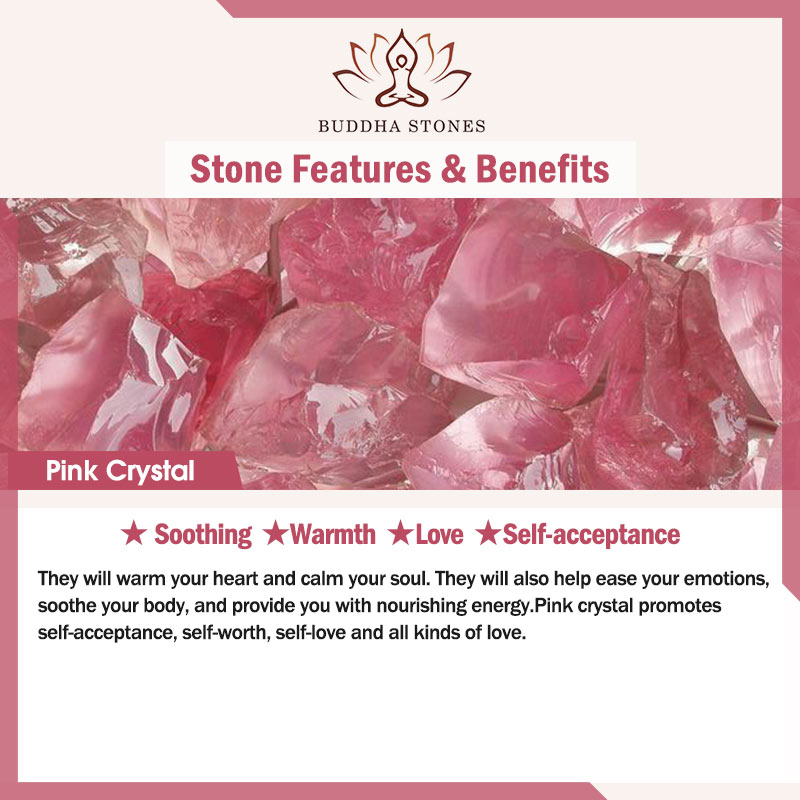 Six True Words 'Om Mani Padme Hum'
♥ Love ♥ Focus ♥ Wisdom ♥ Purity ♥ Peace ♥ Creativity ♥ 
These Six True Words 'Om Mani Padme Hum' – are the most common mantra in Tibet. This mantra produces the sound and vibration which allows you to feel at one with the universe. The mantra is considered to have high spiritual and creative power. Six True Words (Om Mani Padme Hum) Meaning: Om means the vibration of the universe, symbolizes one's impure body, speech, and mind. Ma Ni means the jewel, symbolizes factors of the method, compassion, and love, the altruistic intention to become enlightened. Pad Me means lotus and symbolizes wisdom.Hum means inseparability; symbolizing purity and can be achieved by the unity of method and wisdom. This chant brings you joy and peaceful vibrations and supposedly, contained in this verse is the truth of the nature of suffering and how to remove its causes.
Specifications:
Item Type: Bracelet
Bead Size: 8mm
Circumference: 18cm
Gender: Unisex
Material: PiXiu, Obsidian, Red Agate, Tiger's Eye, Blue Sandstone, Pink Crystal
Note:
1. Products are made of natural materials, please take off the product when you are ready to sleep or wash.
2. The above data is manual measurement, there is a slight deviation, please understand!
3. The materials used in all our products are naturally environmentally friendly.
4. These products are HANDMADE and NATURAL, therefore they may present some irregularities and due to lighting effects, the color may slightly vary from the one shown in the picture.