---
In order to provide you the best experience, all our products are made by master craftman with selected high-quality materials and everyone owns its unique positive meaning. We hope these meaningful items will bring you good luck and positive change.💕
Product Description
Black Obsidian
♥ Purification ♥ Transformation ♥ Fulfilment ♥ Strength♥
One of the best crystal bodyguards in existence, Black Obsidian is a fantastic stone to use to facilitate the release of anger and resentment. It stops negativity breeding from within, cutting off its life source and encouraging any toxic energy to leave at once.
It finds excellent ways to transmute negative energy into something beneficial for you, be it confidence, self-worth or inspiration. A powerful stone for self-discovery, it reveals deep inner truths. In fact, it's one of the most eye-opening stones you can get your hands on because it doesn't hold back.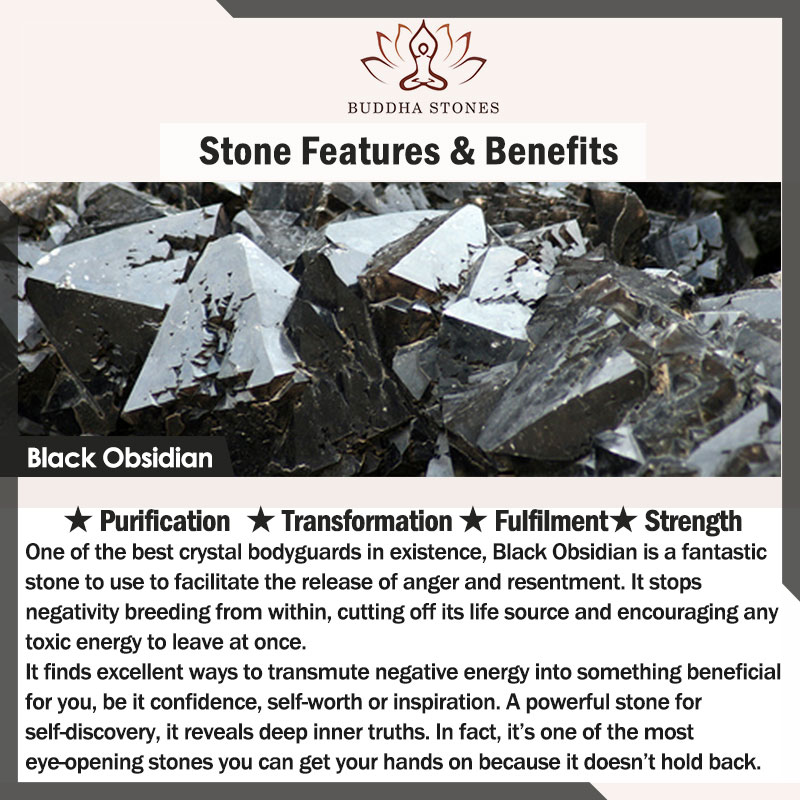 lce Obsidian
♥ Cleansing ♥ Positive ♥ Courage
Emotionally, lce Obsidian is excellent for elevating moods, overcoming negative emotions, and relieving depression. Ice obsidian relieves stress, fear, jealousy, anger and other negative emotions by transforming them into positive energies. It is a helpful stone for enhancing and encouraging courage and inner strength.
Rainbow Obsidian
♥ Love ♥ Positive transformation ♥ Bright ♥ Inner peace and healing ♥
Obsidian is said to be able to alleviate depression, stress, despair, mood swings, and paralyzing fears. If you want a more gentle approach to the purification process, then perhaps Rainbow Obsidian would be a better option. It offers similar protection levels but its energy isn't quite as intense. A softer stone for those suffering from despair, Rainbow Obsidian stimulates a sense of self-belief and self-worth, even when you're at rock bottom.
Rainbow Obsidian makes up the majority of this beautiful bracelet. It's a grounding stone, anchoring you to the present moment and empowering you to feel the energy of each passing second. Known to protect the sensitive, Rainbow Obsidian promotes love, joy, and peace for all.
Gold Sheen Obsidian
♥ Protection ♥ Relax ♥ Calm ♥ Wealth ♥ Strengthen ♥ Keep away evil spirits ♥
Gold obsidian is a kind of obsidian that contains a bright golden substance. Obsidian is considered to have the effect of resisting, absorbing negative energy and protecting the body, and is often used in divination calculations and predicting the future. The effect of gold sheen obsidian is stronger than obsidian, it can enhance vitality, restore people's spirit, and can also dissolve negative energy.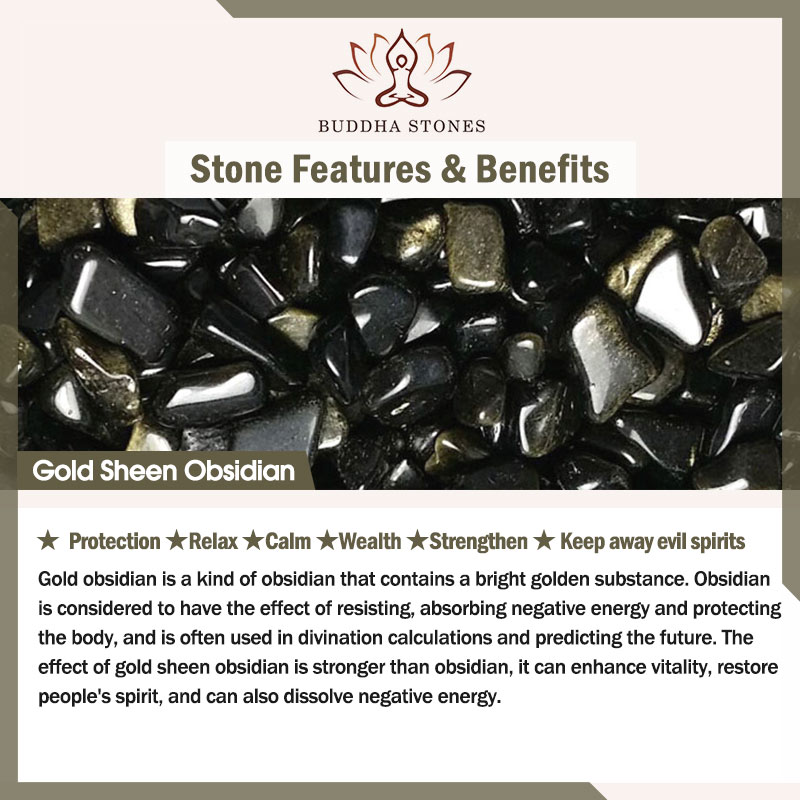 Specifications:
Item Type: Necklace
Necklace Length: 45cm
Pendant Size: 62mm*16mm
Gender: Unisex
Material: Black Obsidian, Ice Obsidian, Rainbow Obsidian, Gold Sheen Obsidian
Note:
1.Products are made of natural materials, please take off the product when you are ready to sleep or wash.
2.The above data is manual measurement, there is a slight deviation, please understand!
3.The materials used in all our products are naturally environmentally friendly.
4. These products are HANDMADE and NATURAL, therefore they may present some irregularities and due to lightning effects, the colour may slightly vary from the one shown in the picture.