---
In order to provide you the best experience, all our products are made by master craftman with selected high-quality materials and everyone owns its unique positive meaning. We hope these meaningful items will bring you good luck and positive change.💕
Product Description
✨ What are Tingsha Bells?
Tingsha (or ting-sha) (Tibetan: ཏིང་ཤགས་, Wylie: ting-shags) are small cymbals used in prayer and rituals by Tibetan Buddhist practitioners. Two cymbals are joined together by a leather strap or chain. Tingsha are very thick and produce a unique long ringing tone. 
⭐ 8 Auspicious Symbols:
In Buddhist legend, the 8 Auspicious Symbols represent offerings the gods made to the Buddha after his enlightenment. It is believed that each of these symbols have powers to bring blessings for which people include these in paintings, textiles, homes, and wherever else possible.
🌟 Tingsha Bells for Sound Healing
They are used often for meditation to focusing the mind on the sound in sound healing and in-room clearance. They can also be used to add depth to musical soundscapes. Tingsha are long-lasting in their tones. The vibration of the bells clears the negative energy and rebalances the vitality of a space. 
The chimes are struck together to create a pure, bright bell sound that rings for a surprising length of time. Tingsha are an inexpensive and most intimidating option for sound healing. They come in different sizes which produce different levels of frequencies. Each different frequency is significant for different organs and chakras of our body. 
It's a great way to use tingsha to begin a meditation process and to end one. The reason is the sound helps us open up for a meditation and then close one.
❤️Facilitate Meditation and Mindfulness: From sound healing to improving mindfulness, Tingsha Cymbals have a lot of benefits! If someone is having trouble during a meditation session it might be because of negative energy weighing down the room and clouding mental focus. Clearing the bad energy with bells can help bring back mental clarity and re-establish the rooms' natural balance. Tingsha Cymbals are very helpful during meditation and mindfulness practices.
💯Clear Negative Energy: The cymbals are struck together to produce a clear and high pitched tone. Tingsha are very thick and produce a unique long ringing tone that lasts for 30 sec-60 sec. The vibration of the bells clears the negative energy and rebalances the vitality of a space. It is very important to clear any new space, such as a home or workplace, of negative energy, as bad energy can harm productivity and general mental wellness.
⭐ How to Play Tingsha?
❤️ Traditional Ways
Maintain a relaxed sitting position and close your eyes. Now, hold the tingsha bell by the string just above the metallic disks and give a tap on the rim of one by the other. Bring your attention to the sound of these and just follow the sound till it ends. Focus on the other sounds around you now. What you will notice is how things have gone quieter both inside you and around you. 
🥰 Modern Ways
You can add an interesting dimension to the sound if you spin them around after you hit them. This helps to throw the sound around you. It's a good way for room clearance and heals others. You can even do it by twirling them around after the hit.
Six True Words 'Om Mani Padme Hum'
♥ Love ♥ Focus ♥ Wisdom ♥ Purity ♥ Peace ♥ Creativity ♥ 
These Six True Words 'Om Mani Padme Hum' – are the most common mantra in Tibet. This mantra produces the sound and vibration which allows you to feel at one with the universe. The mantra is considered to have high spiritual and creative power. Six True Words (Om Mani Padme Hum) Meaning: Om means the vibration of the universe, symbolizes one's impure body, speech, and mind. Ma Ni means the jewel, symbolizes factors of the method, compassion, and love, the altruistic intention to become enlightened. Pad Me means lotus and symbolizes wisdom.Hum means inseparability; symbolizing purity and can be achieved by the unity of method and wisdom. This chant brings you joy and peaceful vibrations and supposedly, contained in this verse is the truth of the nature of suffering and how to remove its causes.
Copper
♥ Balance ♥ Self Care ♥ Healing ♥ Wealth ♥ Luck
Copper metal is a good conductor of heat and electricity. Spiritually, it also grounds and transfers vibration frequencies from the physical realm to the spiritual one, and vice versa. As a result, you can channel and communicate with higher dimensional beings, cleanse your aura, mind, and find out information from the spiritual world. Copper metal is the giver of positivity and goodness, as well as the bringer of good luck in various endeavors. It attracts money, prosperity, and all-round abundance.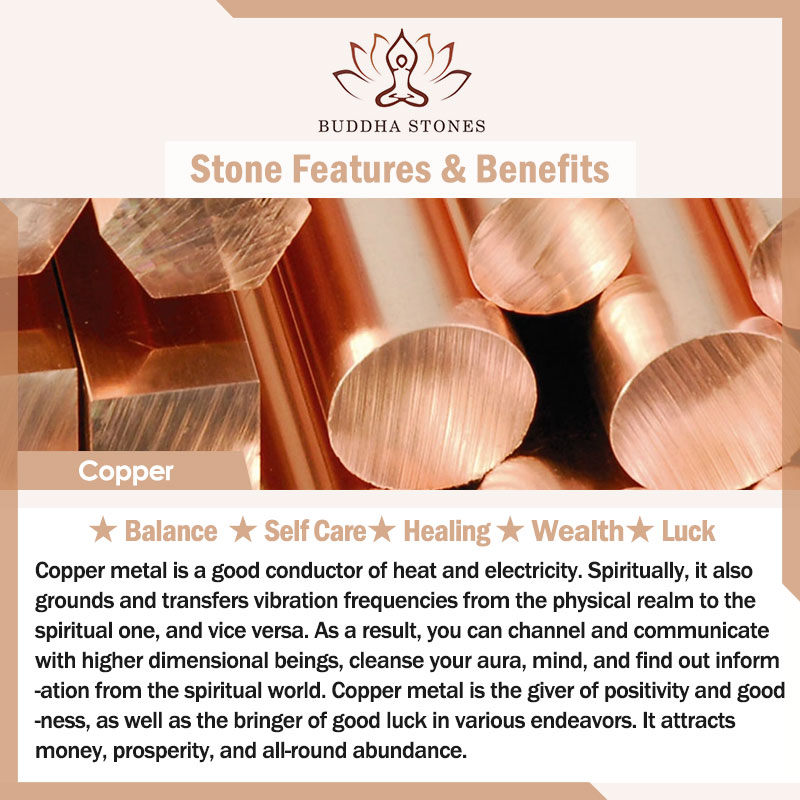 Specifications:
Item Type: Decoration, Tingsha Bell
Material: White Copper
Size:6.5cm*0.3cm (Diameter*Thickness) 
Weight: 220g
Package Included: A Pair of Tingsha Bell
Note:
1. Products are made of natural materials, please take off the product when you are ready to sleep or wash.
2. The above data is manual measurement, there is a slight deviation, please understand!
3. The materials used in all our products are naturally environmentally friendly.
4. These products are HANDMADE and NATURAL, therefore they may present some irregularities and due to lighting effects, the color may slightly vary from the one shown in the picture.